Emergency Management Agency
Prepare
Visit ReadyPA to view and download information to help you prepare for unexpected events. Businesses and organizations can contact our office to obtain printed copies of preparedness materials. When the families of employees are not prepared for an unexpected event, they will not be available to meet their employment obligations. Individual preparedness prevents this from occurring and preserves a community's economy. Don't be surprised, be prepared!!! You can download a copy of the Pennsylvania Emergency Preparedness Guide by clicking on the picture below.
Have you experienced property damage due to flooding? Are you looking for guidance on how to make your property safe from the mold and mildew that can grow after flood waters recede? Click on one of the brochure covers below to view or download the PDF file of each publication. Printed copies of these are available at our offices for pick-up during our hours of 8am-4pm.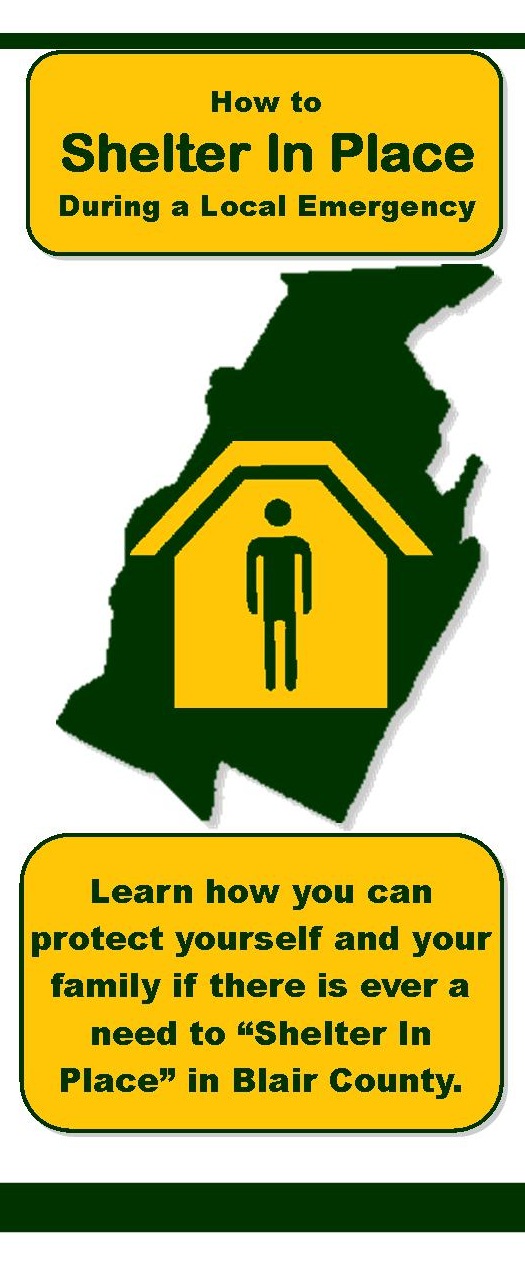 Learn how to stay safe when a chemical release occurs in your community.
Download and view our shelter-in-place brochure.
Printed copies are available by contacting our office 814-940-5901.


Emergency Plan Guidance and Sample Templates
Child Care Emergency Planning Tool Kit

The Child Care Emergency Planning Tool Kit should yield an emergency plan for child care centers that enhances safety of the staff and children in the center and satisfies the licensing requirements of the Pennsylvania Department of Public Welfare. The kit includes a three-part plan (Basic Plan, Checklists and Supporting Documents), and a Childcare Facilities Planning Guide that helps fill in the blanks to complete the plan.

Questions about child care and child care programs should be directed to the Pennsylvania Department of Public Welfare. Help with emergency planning can be obtained from the Blair County EMA office by calling 814-940-5901.

Child Care Facility Emergency Planning Guide (MS Word)

Child Care Emergency Basic Plan (MS Word)

Child Care Emergency Plan Checklists (MS Word)

Child Care Emergency Plan Supporting Documents (MS Word)
Emergency Management Links
Penelec Power Outage Map
National Weather Service - River Gauges